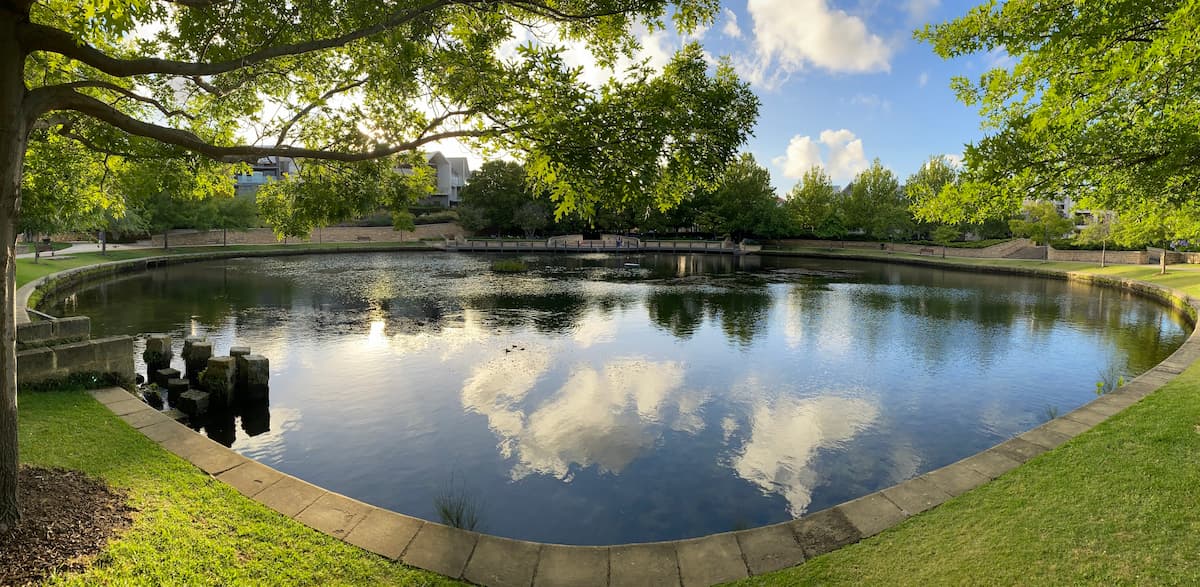 National parks, riverside reserves and community parks are a great place to relax and explore nature in Perth's Eastern Region.
Perth's Eastern Region has over ten national parks, more than 60 trails and hundreds of kilometres to explore. Some of the most popular national parks in the region include:
There are also several regional parks, which are areas which have conservation, recreation and landscape values with regional significance. Added to this are thousands of hectares of state forest offering a range of recreational activities.
Lake Leschenaultia in the Perth Hills is well known for its great canoeing, swimming, cycling and barbeque facilities. Popular with families and with free entry, Lake Leschenaultia also has cool shaded areas, lawns, white sand beaches and playground equipment. A new cafe has recently opened up at the lake that also offers canoe hire on weekends, school holidays and public holidays.
Whiteman Park is a state recreation and conservation reserve in the Swan Valley, offering so much more than just nature with free entry. Open every day of the year, attractions include:
Orienteering courses, trails and sports facilities
Mini water playground, children's forest, and amusement rides
Art and craft studios
Wildlife park, birds of prey show and a special dog park
Transport museums and rides on restored buses, trams and trains

Adachi Park is a Japanese themed riverside retreat, the perfect spot for a quiet lunch on Great Eastern Highway in Belmont. Named after the sister city of Adachi-ku in Japan, the park has Japanese gardens, a tea house, playground and doll house.
Bardon Park off Bardon Place in Maylands is home of Maylands Yacht Club and Perth Pirates Dragon Boat Club. With panoramic views of Perth city and the iconic Swan River, you can enjoy attractive gardens with waterfall and pond features, barbecue facilities, picnic tables/seating, and public toilets.
Fishmarket Reserve on Swan Street and Lilac Hill on West Swan Road are both popular picnic areas in Guildford. Fishmarket Reserve is also a great spot for fishing or canoeing.
Riverside Gardens, as the name suggests, is a shady riverside retreat in Bayswater that can be accessed via Milne or King William Streets. The foreshore reserve has picnic and barbecue facilities, children's play equipment, large grassed areas suitable for kicking a football or flying a kite, walking paths, wheelchair access, public toilets, and ample parking. If you enjoy water based activities, this reserve is also the home of the ANA Rowing Club, and the Avon Descent finish line festivities.
Sandy Beach Reserve on West Road in Bassendean is a popular spot in summer, with a playground, picnic facilities, large shady spaces and a growing collection of sculptures.
Faulkner Park on Abernethy Road in Cloverdale is at the heart of the City of Belmont, and is famous for its volcano themed adventure playground. Faulkner Park also hosts a skate park, a toddler's playground, sand pit, and a flying fox. A variety of events are held here throughout the year.
Tomato Lake at Oats Street in Kewdale, is a popular recreational area containing a wetland, a central lake, a 1.6 kilometre walking trail and a nature sanctuary island with a boardwalk across the lake.
Stirling Square in Guildford is a picturesque park and one of the fascinating stops on the Historic Guildford Heritage Walk Trails. St Matthew's Church and other cultural attractions in the square provide links to Guildford's pioneering past.
Mundaring Sculpture Park is adjacent to the Railway Reserves Heritage Trail, a walk and mountain biking trail which follows the route of the old railway line. The park is also the starting point of the Munda Biddi Trail, a long-distance mountain biking trail stretching from Mundaring to Nannup. Appreciate the recreational and cultural heritage of this unique area with interpretation boards and a series of specially commissioned sculptural works featuring Western Australian artists.
Stirk Park on Kalamunda Road in Kalamunda offers a range of recreation and leisure facilities, including playgrounds, barbecues, and picnic tables. Disabled access is available throughout the park, and the Liberty Swing is available for use by wheelchair bound children and adults (please contact the Shire of Kalamunda regarding use of the Liberty Swing).
Trails are the best way to explore the natural wonders of Perth's Eastern Region. Search trails to find a trail experience for you.